Tag Archives
March 7th, 2012 – by JC Kibbey
Spring athletes – your season is in full swing, and now is your chance to get in some unofficial spring visits with colleges.
Talking to college coaches and setting up visits can seem overwhelming. Break it down into an action plan with simple steps, and it's easy. Read on to learn how to set up a spring visit.
1. You've been researching schools that you're interested in and you're a good athletic and academic fit for – right? If you haven't, and you are serious about playing college athletics, do it by the end of the day. This is absolutely crucial whether you're planning a spring visit or not. All the other steps won't do much good unless you've done this. Check recruiting guidelines for your sport here and make sure your GPA and test scores are at least close to what the school typically looks for.
2. Make sure any schools you want to visit have need at your position for your grad year. If you're an NCSA Verified Athlete, check our coach requests to see what they're looking for – you might see something like, "looking for women's 400m runners with 3.0 GPA or better for 2014," or "5' 10"+ 1B wanted for 2013." In your RMS, you'll be able to see all the requests from coaches at schools where you're a good fit. If you're not a verified, you can look at rosters for schools you are interested in and see if players in your position or event
3. Decide if your visit will be official or unofficial (click here to learn about the difference). Most visits will be unofficial – the only athletes taking official visits will be seniors who already have serious interest from coaches at schools they want to attend.
Your ads will be inserted here by
Easy Plugin for AdSense.
Please go to the plugin admin page to
Paste your ad code OR
Suppress this ad slot.
4. Select the schools where you want to visit and reach out to the coaches there. Tell them you are interested in their program and ask if they would like to see your highlight video. If you're a good fit, seeing you play will spark their interest right away. If you're not a good fit, better for the coach to find out right away. That way, neither of you spends time on recruitment for a school that is not a good choice for you.
5. If the coach is interested in you, tell them that you would like to set up an unofficial game day visit (or, for some well-positioned seniors, an official visit). Even on an unofficial visit, the school can give you tickets to a sporting event – you'll want tickets to your sport, so you can get a feel for the team and have a better chance at face time with the coaching staff.
6. If the coach okays the visit, make sure to schedule it wisely – for spring break, a weekend, or some other way that fits around your practice and games. You don't want to miss practice or a game for a recruiting visit – it sends the wrong message to a college coach if you are bailing on your team to visit them.
Once it's scheduled, all that's left to do is go – remember to budget for travel and meals if the visit is unofficial.
Coming soon: what to do once you're on the visit.
http://recruit-match.ncsasports.org/fasttrack/landing/general/metal.jsp?lnkSrc=TalentRail
by JC Kibbey
Coach Taylor – I have been getting attention from college coaches, but I was recently injured. Will this affect my ability to get recruited? What can I do?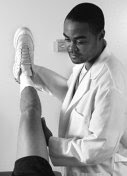 As long as you have recovered or are recovering, you should not be affected by the injury. NCSA has worked with many athletes who have overcome injuries and were recruited into excellent programs. It is crucial that you work your hardest to rehab and overcome the injury.
When it comes to communicating with coaches, it is not necessary to advertise your injury, but don't hide it. Be honest with coaches about your injury; don't be overly pessimistic or optimistic about the injury – try to give them a realistic timeline but be up front if you do not necessarily know how long you expect to be sidelined. Make sure to get the best consultation from you can, from experienced athletes, coaches, and especially medical experts.Don't push yourself too hard – if you try to come back before you're ready, you may injure yourself even worse. Allow yourself to heal and follow the advice of your doctors. Show the same work ethic and commitment to your rehab as you would if you were on the field.
If your injury has prevented you from getting game film from your most recent season – use what film you have from previous seasons. If you are in a sport that requires skill drills in the film you submit to coaches, work extra hard to make sure you showcase your abilities in those drills.Remember there's lots you can do even if you're injured: keep working hard on your academics, fill out your FAFSA, participate in non-athletic extracurricular activities or community service, and complete your college applications. College coaches are looking for ACE (Academics, Character, Effort) student-athletes, and you can keep building that reputation for yourself even if you're hurt.

by JC Kibbey
Dear Coach Taylor – What do I need to do before I start calling coaches? How can I prepare?

If you want to get recognized, you're not going anywhere unless you're an ACE: on top of your Academics, Character, and Effort. Those are the three things coaches look for. If you're not doing a good job at those things, talking to coaches could hurt you instead of helping you. You need to make a good impression, so the first step to becoming a recruit is to make sure those things are nailed down. Let's break down why it's so important to be an ACE.

November 22nd, 2011 – by JC Kibbey
Dear Coach Taylor – Is the time to get signed as a football player between February 1 and April 1?
You are partly correct: the  National Letter of Intent signing period for football players is February 1 through April 1 of 2012 for the fall of that year (remember that National Letters of Intent are used by Division I and Division II schools only).
But by the time February 1 rolls around, National Letters of Intent are just a formality. The actual evaluation and communication occurs much earlier for Division I and II football coaches.
Beginning September 1 of a player's junior year, they can begin receiving written communications. A highly recruited player will generally receive handwritten correspondence from the coaches or staff; any player on a school's radar will receive a letter. Division I coaches may call a prospect one time between April 15 and May 31 of his junior year. A player who does not receive a call during that timeframe is usually not going to be recruited by a Division I school. Division II coaches may begin calling, up to once per week, on June 15 after a player's junior year.
Those are the major indicators of recruiting interest, and there are more detailed rules following junior year. You can find a full breakdown of the rules and timelines here, if you're interested:
http://www.athleteswanted.org/wp-content/uploads/2010/03/RRG_ebook_completecompressed.pdf.
So: if you have been in contact with Division I coaches and you want to make sure you haven't missed the boat – not to worry, signing hasn't happened yet. Football, unlike other sports including basketball, does not have an early signing period for National Letters of Intent.
The dates and times may be slightly different for non-football sports, but the idea is the same: by the time people start signing letters, the process is basically over. If you haven't yet been in contact with coaches – it's serious crunch time. Almost all Division I rosters, and most in Division II, have been penciled in at this point even if the commitments haven't been inked yet. There may still be scattered Division I and II programs with space or scholarships left (although it's no guarantee) but don't discount Division III and NAIA schools, whose recruiting processes are somewhat different.
For athletes in sports other than football, you can check out the National Letter of Intent timetable for all sports here:
http://www.ncsasports.org/blog/2011/11/16/national-letters-of-intent/
Read more: Dear Coach Taylor – when is the time to get signed? | College Recruiting Blog – Athletic Scholarships Blog | NCSA http://www.ncsasports.org/blog/2011/11/22/dear-coach-taylor-when-is-the-time-to-get-signed/#ixzz1ea7NPjYV